Rachel Kachaje's Address to the World Assembly
Welcome Arab Organization of Persons with Disabilities (AOPD) Representatives, DPI World Council Members, National Assembly Representatives, Distinguished guests. All protocols observed
It is a pleasure to be welcomed to Egypt and to take part in the international conference of "LEAVE NO ONE BEHIND". I extend my deepest appreciation to the government of Egypt for welcoming us into their beautiful country, and to the members of AOPD for organizing such a commorative event.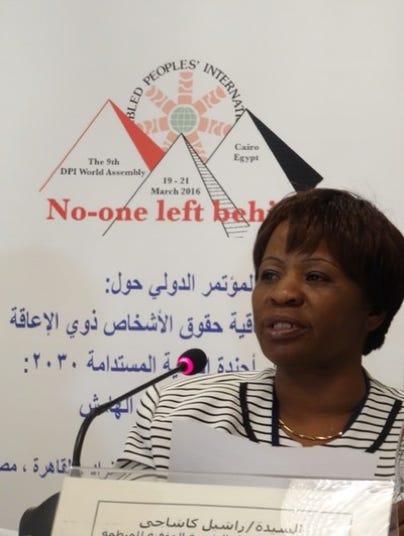 Today we also celebrate the 35th Anniversary of Disabled Peoples International, a mile stone for people with disabilities around the world. Today is the turning point for DPI. As I look over the many faces I behold today, perceptions of individuals are washed away. I do not see the differences; I only see that we are all the same, reflecting that we live in one world, together. People, just people, with and without disabilities.
However, today is not to reminisce our past, it's about looking into the future, the future of one billion people with disabilities around the world, living in the same equality as everyone else.
Today we contribute to the fabric of the future which is Unity, a Strong voice, respect for each other and protecting our history and philosophy which are paramount in DPI family.
We are all different, with different personalities, cultures, characters and behaviors but one thing is common to all of us, this common denominator which unites us is disability.
Sixteen years ago, the Millennium Development Goals were adopted by World Leaders. The MDGs represented basic human rights for everyone to experience. Simple things: such as freedom from extreme poverty and hunger, Education, Employment, Access to Health, the Rights of Women and Gender Equality.
The MDGs were not achieved! DPI had long foreshadowed this truth. We knew that the MDGs could not be realized unless People with Disabilities were included specifically.
Now, World Leaders have come together again to restructure the Goals, and hence the Sustainable Development Goals were put forward to be achieved by 2030. And once again they cannot be achieved up until people with disabilities, as the most vulnerable living in the world are part of the decisions that contribute to the SDGs.
We are here to identify how we can effectively impact the Goals. This conference will shape the future for people with disabilities around the world, as we address how we can impact the SDGs, make our voices collective and strong, together. Let's make the SDGs accountable and achievable for the future by ensuring that we are heard. Nothing about us, without us! And Leave No One Behind.
I would like to urge our governments, the development partners and all stakeholders gathered here that Indeed LEAVE NO ONE BEHIND, you cannot afford to leave behind billions of people out of the development agenda and let them be none productive citizens of our countries.
I'm sure that we will approach our challenges with the same boldness and justice that began 35 years ago by our beloved brothers and sisters who stood up with pride to establish DPI in the early 80's. There is a light today, the same light that one could compare to spring rain and the rainbow that follows.
I would like to take this opportunity to thank the Conference Organizing Committee for their diligent work. I would also like to thank participants for joining us and sharing your valuable experience and ideas.
In closing, I hope that all of you will enjoy the Conference, and enjoy the beautiful city of Cairo.