International Women's Day 2018,
The Way Forward: Inclusion of women and girls with disabilities
DINAH RADKE, DPI VICE CHAIR FOR WOMEN RIGHTS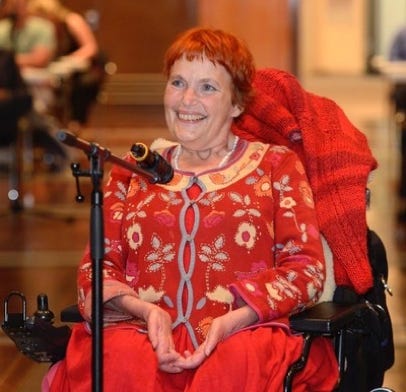 Disabled Peoples International is lobbying and fighting for a change in politics: Implement the CRPD and the 2030 Agenda!
Women and girls with disabilities continue to face inequalities in the society. They experience denial of civil, political, economic, social, and cultural rights based on both gender and disability. They are still subject to multiple discrimination.
The 2030 Agenda for Sustainable Development and its commitment to leaving no one behind gives heightened attention to reducing the inequality of women and girls with disabilities and stresses the importance of taking a human rights based approach.
It has to be recognized that women and girls with disabilities make potential contributions to the overall well-being of their communities.
Therefore:
Promote the rights of women and girls with disabilities and enhance their participation in society through taking measures to address all barriers that prevent or restrict the full and equal participation.
Integrate and address women and girls with disabilities in all Gender programs and activities of international development cooperation.
Stop various forms of violence against women and girls with disabilities by taking legal action, providing shelters and other measures to protect them.
Provide women and girls with disabilities with job trainings and employment opportunities.
Support and promote the creation of organizations and networks of women with disabilities and encourage women with disabilities to take leadership roles in public decision-making bodies at all levels and be actively involved in processes about policies and programmes, including those directly concerning them.
Providing women and girls with disabilities with equal access to education, health care, decent work, and representation in political and economic decision-making processes will benefit societies and humanity at large.
Dinah Radtke, DPI Vice Chair,
March 2018